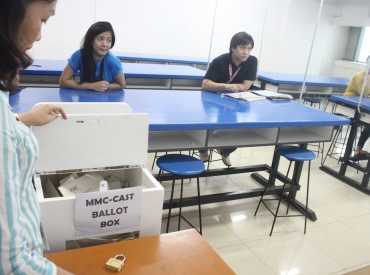 The mission statement of the Supreme Student Council is "to serve MMC – CAST by representing student opinion, addressing their needs through targeted programs, and providing opportunities for leadership development in order to enrich the quality of student life."
In this regard, the Student Council elected a new set of officers for the academic year 2014 – 2015. The result of the election was successful because it was participated by 410 students out of 550 bonafide students. Committed to the needs, desires and aspirations of our students, Mrs. Perpetua Santos organized a commission on election, headed by the Board of Canvassers, Mr. Rollie Luy and Mrs. Mila Herrera.
The newly elected officers for the School year 2014 – 2015 are:
President – Rozelle D. Reyes
Vice – President - Brian Joseph P. Balagtas
Secretary - Ellaine Anne F. Geronimo
Treasurer - Mikee R. Arbis
PRO - Angel C. Araneta
More power and congratulations to all of you.