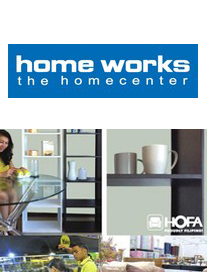 Home Works The Homecenter is considered as the leader in the concept of a one-stop shop non-food store, which includes HOFA (Home, Office Furniture and Accessories), Hardware, Appliance, Motoring, DIY, and exclusive Imported items. It is the first venture of the company in the retail industry that made name in the market since then.
In 2010, Home Works launch its in house brand of furniture, HOFA which features contemporary furniture catering to the discriminative taste of its customers.
Home Works aims to provide solutions for our customer to go beyond their wants, expectation and stretch their resources to easily find what they need. We want to be the "first-choice provider" in terms of Quality, Price and Completeness.