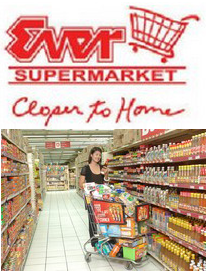 EVER is one of the leading supermarket chains in the Philippines, with an unrivalled reputation for giving customers outstanding value for money, high quality in fresh food, an unmatched range, and world-class service.
Since we opened our first store in 1971, we have grown into a network of more than 10 stores, with a dedicated staff who pride themselves on their commitment to innovation and superior quality of service. We serve over a million satisfied Filipino customers every month.
Our well-known 'Closer to Home' and 'More Reasons to Smile' campaign has set the benchmark for Philippine retailing, guaranteeing customers the highest possible levels shopping convenience, at the best value in town.
Today we have become a household icon, providing convenient access to Filipino's daily food and household needs while upholding our commitment to low prices. As the city's foremost supermarket, we are dedicated to providing our customers with quality products and services. We continuously seek to improve our offering by actively listening to our customers' feedback.
EVER Supermarket has transformed the way Filipino shoppers think about supermarket shopping, giving them the widest selection of grocery items in the city, plus an unparalleled range of fresh and cooked food, and offer clothes, cosmetics, bed and bath accessories, a DIY section, a budget zone and a vast range of general household merchandise; making EVER a true one-stop shop.
EVER's retailing foresight and management drive is well recognized through numerous consumer, industry and community awards.
Branches:
Commonwealth, Ortigas,Recto,Masangkay, Sucat, Roces, 11th Avenue, Sapang Palay, Santolan, Trabajo, Kaybiga, Parang, Paco, Pearl Drive, Navotas, Paliparan, Marulas, Cainta, Concepncion, Hermosa, Panghulo,General T. De Leon, Pateros, Bangkal, Pandacan