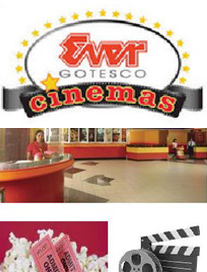 Housing more than 15,000 seats in all of its 17 cinemas located inside the Ever Gotesco Malls are strategically located in the heart of the major cities in Metro Manila; Ever Gotesco Cinemas offers quality and value in movie watching.
Ever Gotesco Cinemas were recently launched in 2003 and 2005, under the new management of Gotesco Tyan Ming Development, Inc and Eagle Production International Films, Inc respectively. Ever Gotesco Cinemas thrust has not changed—to offer quality movie experience.
In support to this drive, Ever Gotesco Cinemas are equipped with Dolby Digital, Sony Dynamic Digital Sound (SDDS) and Digital Theater Systems (DTS) in audio digital formats. Most importantly, to give maximum visual satisfaction, we operate using advanced projection equipment and widescreens.
Additionally, S-NACKS BAR offers a variety of snacks, beverages and everyone's favorite snack in movie theaters- POPCORNS, to complete the experience in movie watching.
Ever Gotesco Cinemas also recently opened its doors to other venues. An array of musical plays and other huge-attendance events have been properly accommodated due to its stadium seating arrangement and number of sitting capacity.
Ever Gotesco Cinemas are located at the Ever Gotesco Ortigas Complex, Ever Gotesco Commonwealth Center and The Manila Plaza ( Recto).