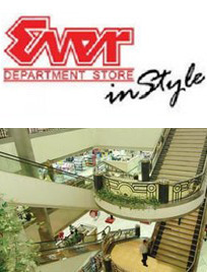 Ever Department Store is among the most recognized retail brands in the Philippines. We are known for creating unique merchandise assortments, operating destination stores, hosting attention-getting community and fashion events, and driving innovation in fashion-oriented commerce.
While millions of Filipinos visit Ever each year, we don't take their business for granted.
Through ongoing research, our company is identifying its "core" customers, studying their lifestyles and striving to mold our merchandise assortments and store experiences around their needs. Ever's goal is to make our stores relevant for each and every customer, whatever her or his needs and preferences.
This means we sell a broad array of merchandise that helps individual customers express their personal style. We tailor the assortments at each store to the customer who shops there. We strive to provide appropriate levels of service to all customers and to connect with them one-on-one.
Our business strategies are supported by the best people in retailing, in whom we have invested to attract, develop and retain.
Ever Department Store... always in Style.